North America's oldest symphony orchestra.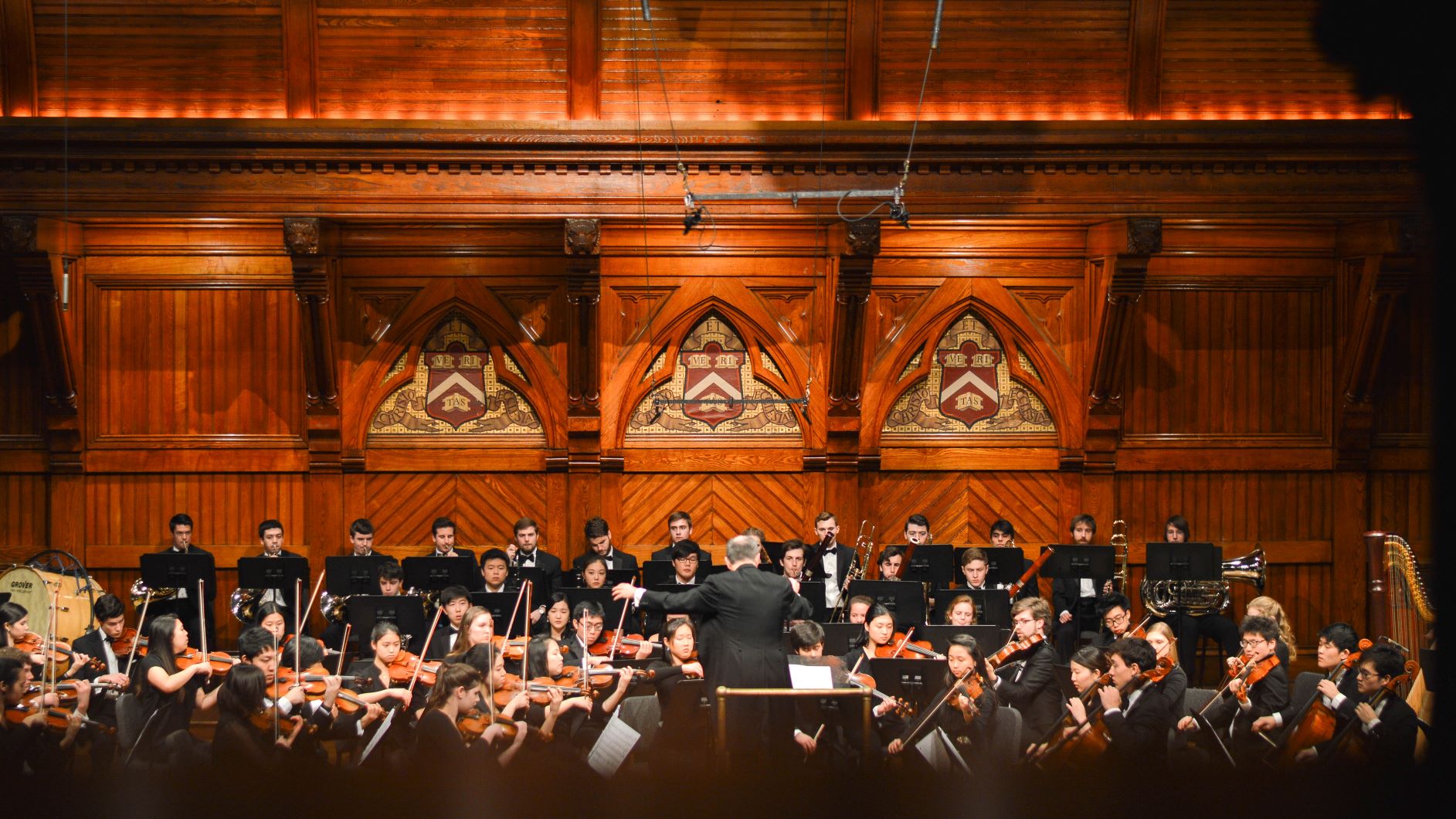 Our History
Since its founding in 1966, the Harvard-Radcliffe Orchestra Foundation (formerly known as the Harvard Pierian Foundation) has provided financial support and practical assistance to the Harvard-Radcliffe Orchestra (the "HRO") in ways both large and small. In more recent years, the Foundation's work has expanded to include developing opportunities for engagement of HRO alumni/ae with each other and with the HRO.
Our Mission
To sustain the traditions and aspirations of the Harvard-Radcliffe Orchestra and to foster lifelong connections among past, present, and future generations of HRO players.
Our Goals
We seek:
To provide resources to enable HRO to pursue projects furthering musical excellence to be shared with audiences around the world

To empower HRO's student leaders by offering business expertise and providing institutional memory

To encourage interaction among HRO's players and alumni/ae and their larger communities through artistic, educational, and social programming
Our Leadership
The Foundation is led by a Board of 4 officers, 24 directors drawn from HRO alumni/ae and community supporters, and several representatives of HRO's artistic and student leadership.
​
In addition, the Foundation's work is furthered by its six standing committees: Development, Alumni Engagement, Student Relations, Communications, Finance, and Governance.
Upcoming Events
Upcoming Events Below
Upcoming Events Below
4:00PM Sat 5 Jun 2021, Eastern timezone

Informal gathering for alumni and alumnae of the Harvard-Radcliffe Orchestra to re-connect and reminisce over Zoom. Attending will be Federico Cortese (Music Director), and members of both the HRO and the HRO Foundation.
Upcoming Performance Calendar
HRO Alumni/æ and Friends of the HRO
Orchestral Performances
| Performer | Orchestra | Location |
| --- | --- | --- |
| Martha Babcock '70 | BSO (Asst. Principal) & Boston Pops (Principal Cellist) | Boston, MA |
| Alexander Fortes '07 | Orchestra of St. Luke's (Violin) | New York, NY |
| Andrew Lowy '09 | Los Angeles Philharmonic (2nd / E-flat Clarinet) | Los Angeles, CA |
| Jacob Shack '14 | Baltimore Symphony Orchestra (Viola) | Baltimore, MD |
| David Sogg '79 | Pittsburgh Symphony Orchestra (Co-Principal Bassoonist) | Pittsburgh, PA |
| Akiko Tarumoto '98 | Los Angeles Philharmonic (Asst. Concertmaster) | Los Angeles, CA |
| Scott Yoo '93 | Mexico City Philharmonic (Conductor) | Mexico City, Mexico |
Events / Performances
Date
Location
Performer
Event (with link for tickets and information)
01/01/22
Hamburg, Germany
Alan Gilbert '89
NDR Elbphilharmonie Orchestra, Makato Ozone
01/07/22
Boston, MA
Miki-Sophia Cloud '04
Alex Fortes '07
A Far Cry - Firefly
01/07/22
01/08/22
01/09/22
Nashville, TN
George Li '17
Mozart Piano Concerto No. 24 with the Nashville Symphony
01/09/22
Key West, FL
Stefan Jackiw '07
Impromptu Classical Concerts (Junction Trio)
01/11/22
New Orleans, LA
Stefan Jackiw '07
New Orleans Friends of Music (Junction Trio)
01/11/22
01/12/22
Hamburg, Germany
Alan Gilbert '89
NDR Elbphilharmonie Orchestra
01/15/22
Durham, NC
Stefan Jackiw '07
Duke Performances (Junction Trio)
01/21/22
Wheeling, WV
Stefan Jackiw '07
Vivaldi and Nathan with the Wheeling Symphony Orchestra
01/22/22
01/23/22
Miami Beach, FL
George Li '17
Rachmaninoff Piano Concerto No. 2 with the New World Symphony
01/29/22
01/30/22
Richmond, VA
Stefan Jackiw '07
Korngold Violin Concerto with the Richmond Symphony
02/02/22
02/03/22
Stockholm, Sweden
Alan Gilbert '89
Royal Stockholm Philharmonic Orchestra - Mahler Nine
02/04/22
Amsterdam, Netherlands
Davóne Tines '09
Calder Quartet and Davóne Tines '09
02/05/22
Jamaica Plain, MA
Miki-Sophia Cloud '04
Alex Fortes '07
A Far Cry - Sunrise
02/11/22
02/12/22
Hamburg, Germany
Alan Gilbert '89
NDR Elbphilharmonie Orchestra and NDR Vokalensemble
02/13/22
Baltimore, MD
Stefan Jackiw '07
Shriver Hall Concert Series (Junction Trio)
02/17/22
02/19/22
Stockholm, Sweden
Alan Gilbert '89
Royal Stockholm Philharmonic Orchestra, Nikolaj Szeps-Znaider
02/20/22
02/22/22
Prescott, AZ
Irvine, CA
George Li '17
Solo Recital - Schumann, Chenn, List
02/23/22
Madrid, Spain
Yo-Yo Ma '76
The Bach Project
02/25/21
St. Louis, MO
Robert Hart Baker '75
St. Louis Philharmonic Orchestra, Christine Brewer
02/25/22
San Luis Obispo, CA
Scott Yoo '93
Notable Insight: Mozart & Debussy at Festival Mozaic
02/26/22
Richmond, VA
George Li '17
Rachmaninoff Piano Concerto No. 2 with the Richmond Symphony
02/26/22
Atascadero, CA
Scott Yoo '93
Dinner Event: Dvorak Piano Quartet at Festival Mozaic
02/27/22
San Luis Obispo, CA
Scott Yoo '93
Chamber Concert at Festival Mozaic
02/27/22
Hamburg, Germany
Alan Gilbert '89
NDR Elbphilharmonie Orchestra, Yuja Wang
03/04/22
Boston, MA
Miki-Sophia Cloud '04
Alex Fortes '07
A Far Cry - Amazonia
03/07/22
03/08/22
Washington, DC
New York, NY
Yo-Yo Ma '76
Beethoven with Ax & Kavakos
03/09/22
03/10/22
Tel Aviv, Israel
Alan Gilbert '89
Israel Philharmonic with Leif Ove Andsnes
03/12/22
Stony Brook, NY
Yo-Yo Ma '76
Beethoven with Ax & Kavakos
03/24/22
St. Augustine, FL
Scott Gregg '88
Lightner Museum
03/26/22
Tunis, Tunisia
Yo-Yo Ma '76
Yo-Yo Ma '76 Plays Bach
03/26/22
03/27/22
Tokyo, Japan
Alan Gilbert '89
Tokyo Metropolitan Symphony Orchestra at Suntory Hall
03/27/22
Deland, FL
Scott Gregg '88
Athens Theatre
03/31/22
St. Paul, MN
Francesca Anderegg '04
Schubert Club Courtroom Concerts
04/02/22
Jamaica Plain, MA
Miki-Sophia Cloud '04
Alex Fortes '07
A Far Cry - Then and Now
04/04/22
04/05/22
04/06/22
Boston, MA
Alan Gilbert '89
Boston Symphony Orchestra, Joshua Bell
04/07/22
Cleveland, OH
Alan Gilbert '89
Cleveland Orchestra, Emmanuel Ax
04/08/22
New York, NY
Stella Chen '15
Chamber Music of Lincoln Center (CMS) Concert
04/08/22
04/09/22
04/10/22
Cleveland, OH
Alan Gilbert '89
Cleveland Orchestra, Emmanuel Ax
04/21/22
Danville, KY
Yo-Yo Ma '76
Yo-Yo Ma '76 & Kathryn Stott
04/22/22
St. Louis, MO
Robert Hart Baker '75
St. Louis Philharmonic Orchestra, Helen Kim
04/23/22
Great Barrington, MA
Francesca Anderegg '04
Works by Women Composers
04/23/22
Stamford, NY
Francesca Anderegg '04
Friends of Music Stamford
04/23/22
Ridgefield, CT
Stefan Jackiw '07
Korngold Violin Concerto with the Ridgefield Symphony Orchestra
04/26/22
Bloomington, IN
Yo-Yo Ma '76
Yo-Yo Ma '76 & Kathryn Stott
04/28/22
04/29/22
Hamburg, Germany
Alan Gilbert '89
NDR Elbphilharmonie Orchestra at Hamburg International Music Festival
04/29/22
04/30/22
05/01/22
Baltimore, MD
Stefan Jackiw '07
Conrad Tao Violin Concerto with the Baltimore Symphony Orchestra
05/06/22
05/08/22
Hamburg, Germany
Alan Gilbert '89
NDR Elbphilharmonie Orchestra, NDR Vokalensemble
05/11/22
05/12/22
St. Augustine, FL
Scott Gregg '88
Lightner Museum
05/13/22
Boston, MA
Miki-Sophia Cloud '04
Alex Fortes '07
A Far Cry - Sunset
05/13/22
05/14/22
Indianapolis, IN
Stefan Jackiw '07
Korngold Violin Concerto with the Indianapolis Symphony Orchestra
05/19/22
05/21/22
05/22/22
Hamburg, Germany
Kiel, Germany
Hamburg, Germany
Alan Gilbert '89
NDR Elbphilharmonie Orchestra, Emanuel Ax
05/20/22
05/21/22
05/22/22
05/23/22
Salem, OR
Portland, OR
Portland, OR
Portland, OR
Stefan Jackiw '07
Schumann Violin Concerto with the Oregon Symphony Orchestra
05/22/22
New York, NY
Stella Chen '15
Chamber Music of Lincoln Center
06/24/22
06/25/22
Hamburg, Germany
Alan Gilbert '89
NDR Elbphilharmonie Orchestra, Yefim Bronfman