When:
8:00PM - 10:00PM Sat 26 Feb 2022, Eastern timezone

Where:
Sanders Theatre, Harvard University
45 Quincy Street
Cambridge, MA 02138 USA
[ Get Directions ]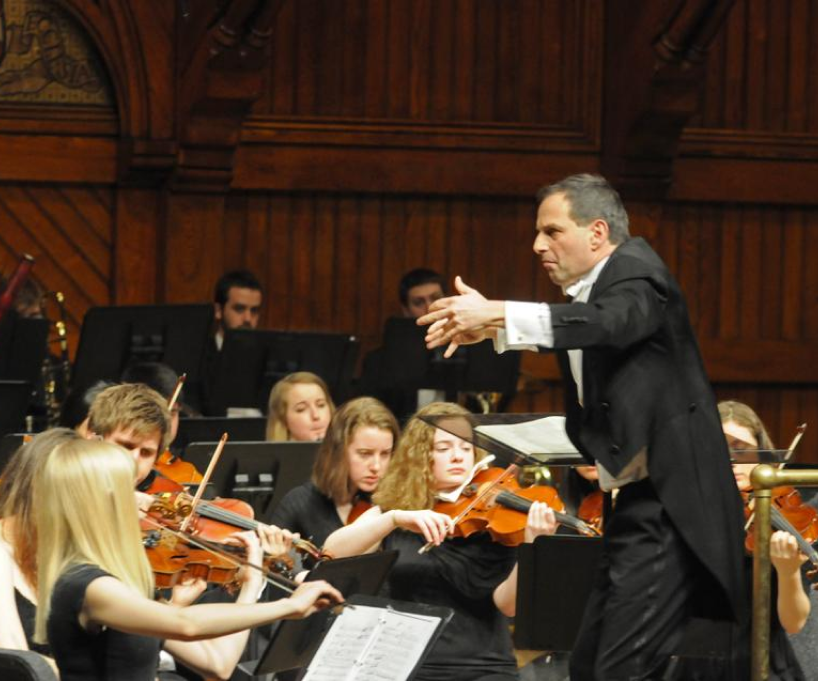 Harvard-Radcliffe Orchestra (HRO) celebrates 10 Years under the baton of Maestro Federico Cortese!
For ten years, the Harvard-Radcliffe Orchestra has been led by Music Director and Conductor Federico Cortese! This special concert honors his amazing contributions including the world premiere of the 3rd movement of "Forestallings" by composer Hannah Lash PhD '10 (commissioned by the HRO Foundation in honor of Fed's 10th anniversary with the HRO), and a performance by Kevin Miura '25, winner of the 2021 HRO Concerto Competition. This is a concert not to be missed!

Tickets can be purchased here (https://www.boxoffice.harvard.edu/Online/default.asp?BOparam::WScontent::loadArticle::permalink=hro).
Maestro Fed's path to the podium is inspiring. From the moment of his debut in September 1998, stepping in at short notice to conduct Beethoven's Symphony No. 9 in place of an ailing Seiji Ozawa, Maestro Cortese's work as Assistant Conductor of the Boston Symphony was widely praised. Serving in that position from 1998–2003, Mr. Cortese led the Boston Symphony several times in Symphony Hall and at Tanglewood. His conducting of Puccini's Madama Butterfly was particularly heralded.
Additionally, he has served as Music Director of the Boston Youth Symphony Orchestras since 1999 and is currently Music Director of the New England String Ensemble and Associate Conductor of the Asian Youth Symphony Orchestra. Other appointments have included Music Coordinator (in lieu of Music Director) and Associate Conductor of the Spoleto Festival in Italy, Assistant Conductor to Daniele Gatti at the Orchestra dell'Accademia Nazionale di Santa Cecilia in Rome, and Assistant Conductor to Robert Spano at the Brooklyn Philharmonic.
Maestro Cortese has conducted operatic and symphonic engagements throughout the United States, Australia and Europe. Recent engagements in the US include, among many others, the Dallas, Atlanta, San Antonio, New World and Louisville Symphonies; as well as many operatic productions including Mozart's Don Giovanni with the Boston Lyric Opera, Puccini's La Boheme with Opera Theater of St. Louis as well as at with the Yale Opera program, and Previn's Streetcar named Desire with the Washington Opera. In Europe, his opera experience includes conducting productions of Verdi's Il Trovatore in Parma, Italy as part of the Verdi's Centennial Festival; Mozart's Die Entfuhrung aus dem Serail at the Spoleto Festival in Italy; Niccolo Piccini's La Bella Verita at the Teatro Comunale, Firenze, with the Orchestra of the Maggio Musicale Florentino; and a new production of Mozart's Cosi fan tutte with the Finnish National Opera in Helsinki. Recent successes include guest conducting Britain's Opera North, the BBC Scottish Symphony, the Slovenian Philharmonic, the Oslo Philharmonic, the Zagreb Philharmonic and the Goettingen Symphony to name just a few.
In Australia, he has conducted the Sydney Symphony, the Tasmania Symphony, the Australian Youth Orchestra, the West Australia Symphony Orchestra, the Queensland Orchestras, and a production of Madama Butterfly for Opera Australia in Melbourne.
Maestro Cortese studied composition and conducting at the Conservatorio di Santa Cecilia in Rome and subsequently studied at the Hochschule fur Musik in Vienna. In addition, he has been a conducting fellow at the Tanglewood Music Center. In addition to music, Mr. Cortese studied literature, humanities and law, earning a law degree from La Sapienza University in Rome.
The concert features the world premiere of the 3rd movement of "Forestallings" by composer Hannah Lash PhD '10 (commissioned by the HRO Foundation in honor of Fed's 10th anniversary with the HRO).
Hailed by The New York Times as "striking and resourceful…handsomely brooding," Hannah Lash's music has been performed at such major venues as Carnegie Hall, Los Angeles Walt Disney Concert Hall, Lincoln Center, the Times Center in Manhattan, the Chicago Art Institute, Tanglewood Music Center, The Aspen Music Festival & School, among others. Hannah Lash's chamber opera, Desire, recently premiered at Miller Theatre to great acclaim. Her Double Concerto for piano and harp was premiered by the Naples Philharmonic, and Forestallings, a musical response to Beethoven's Symphony No. 2 in D Major, was premiered by the Indianapolis Symphony Orchestra. Lash's double harp concerto, The Peril of Dreams was premiered by the Seattle Symphony in November with the composer as one of the featured soloists. Hannah Lash's music is published exclusively by Schott Music Corporation (New York).
Forestallings, takes just the opening gesture from Ludwig van Beethoven's Symphony No. 2 as a point of departure. From that rather stark D – an anacrusis, the slow introduction unfolds in its own direction, quickly parting ways from Beethoven's. Lash explores a constellation of harmonies which then lead to a faster music, which derives from the same material as what she used in her slow introduction, but now reimagined in a more urgent character. The slow music and the fast music form a sort of dialectic and a dialogue, and a sense of conflict is produced by the harmonic constellation whose hierarchies shift throughout the length of the piece. It ends uncertain of which tonal center leans upon which, asking a question rather than offering a resolution.